"The People Behind" is a blog series meant to share stories of the amazing individuals behind DriveNets. From developers and engineers to sales managers, we'll get to the heart of the team behind the disruption of the networking industry, so you can get to know them a little better! 
This week, meet Juan Rodriguez. Juan is a Senior Sales Engineer with many years of providing technical leadership for network innovation projects. He has focused his work on end-to-end network architectures with an emphasis on network innovation and virtualization, joining DriveNets after more than 16 years at Telefonica.
What brought you to DriveNets?   
Juan's path with DriveNets crossed while he was still in 'Future Networks Lab' at Telefonica. In 2017, Telefonica had started their disaggregation project. By 2018, Telefonica created their 'Future Networks Lab' and were evaluating many different vendors for integrating into a disaggregated network infrastructure. DriveNets was one of those vendors.
"I knew a lot about DriveNets, many of the guys," Juan explained, "so when I felt like I needed a change from the atmosphere of a huge corporation, I mentioned I was moving to one of the DriveNets guys. He suggested I join."
The rest went smooth, and already having hands-on experience with the DriveNets solution, the onboarding process was easy.
What are your job responsibilities now?   
Juan serves DriveNets as a Sales Engineer focusing on tier-1 service providers across Europe.
"I get to be DriveNets tech interface towards our customers," Juan shared, "in turn, this gives me also the chance to be the voice of our customers in DriveNets."
This gives Juan the opportunity to reconcile these two sides, keeping the goals of the customers at the forefront.
"Besides that, my objectives are really to be selling, of course," said Juan.
Why should Service Providers prefer the DriveNets solution over the competition?   
Juan boiled it down to two concepts that put DriveNets ahead.
Disaggregation brings flexibility, capacity, and power to operators to be in control of the networks and meet traffic demands at scale

From all the vendors in this playing field, DriveNets is the

only

one covering the network end-to-end
"The people," Juan added, "we are made up of very strong teams – from top management to superb customer support to a very responsive product and R&D, and reliable marketing, and of course sales. When we meet customers, I hear the praise about their experience with our teams, and that is the key to our success."
What is the most exciting part of working in DriveNets?   
Juan comes from Telefonica, one of the largest telecommunications companies in the world in terms of market capitalisation and number of customers, with over 103 thousand employees and present in over 38 countries. By definition, as a startup, DriveNets is a different atmosphere.
"At DriveNets everything you do matters," said Juan, "there are different relationships. It is up to you how to build these relationships. At DriveNets everything you do has an impact."
How do you like to start your working day?   
Juan is not a morning person. He starts his day late.
"I wake up late. I check my agenda on the previous night, learn when I need to wake up. Get some good rest, and skip breakfast, then check my agenda in the morning to see how the day is shaping."
Do you have a favorite quote?  
"It's so simple to be wise. Just think of something stupid to say and then don't say it."

Homer Simpson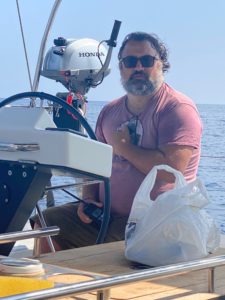 What are three things people don't know about you? 
Sailing: Juan is an experienced but non professional skipper. Juan can be found out on a sailboat in the Adriatic for one or two weeks over the year.

Football: Juan used to play football in Real Federación Madrid, and even beat an FC Barcelona junior team… once.

DriveNets installation: When Juan first joined DriveNets, Ido Susan, the CEO, talked about how easy the DriveNets solution was to install, compared to traditional chassis. Ido said that at Telefonica during the pandemics

one person

installed it on his own. That one person was Juan.
Download Brochure
The Five Operational Benefits of DriveNets Network Cloud
Read more