People have a false sense of being in control, believing that they are making the right decisions based on logic and science. They look back at previous decisions that seemingly reveal that the same calls then are being made now. They rely on the fact that trusted advisors (who have been serving their domain for as long as they can remember) keep on giving the same indication that change is bad.
Well, the fact is that change is indeed bad. It is bad for those who benefit the most from staying put. And if I consider the fact that anti-change winds keep on blowing from the same direction, I believe I have a pretty good idea about the source of these winds.
This blog post will touch upon the predominant methodology of comparing network devices (specifically routers) based on power consumption. A bit of science, a drop of politics and history, and a look into the future, all in less than 1000 words (not including this introduction)…
A bit of science: power consumption
Power is real. It is measured in watts and purchased via the power grid. You can't claim that power isn't a physical substance that is measurable and has its price set in well-known currency. (I'll ignore the idea that a currency's value is an invented imagination we both share.)
The number of watts consumed by a system is a stat in a datasheet, mysteriously calculated in the most artificial manner that concludes the smallest number possible. When comparing systems, this is the number used to indicate the optimal system. It is used as a purchasing criterion even though all parties are aware that the compared numbers are theoretical.
On top of the system's power figure, the industry is evolving into occupying these systems with more capable optical transceivers. As system utilization increases, it reaches a point where the system consumes less power than the optics it hosts.
Figure #1 shows how power for interfaces increases to surpass consumption of the router itself.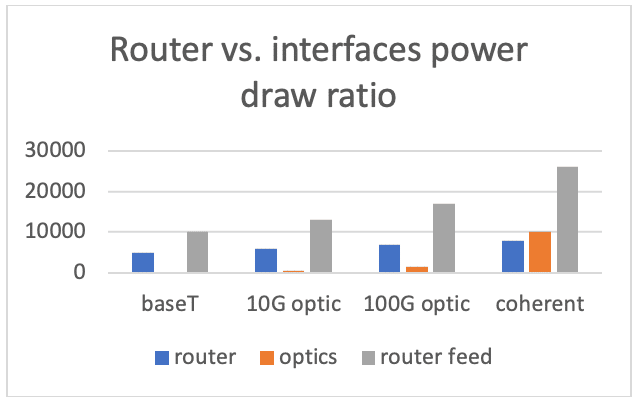 Figure #2 shows how power growth (right axis in watts) is close to linear, while capacity (left axis in Tbps) is exponential between silicon generations, which is in fact expanding the roles and capabilities of the "router."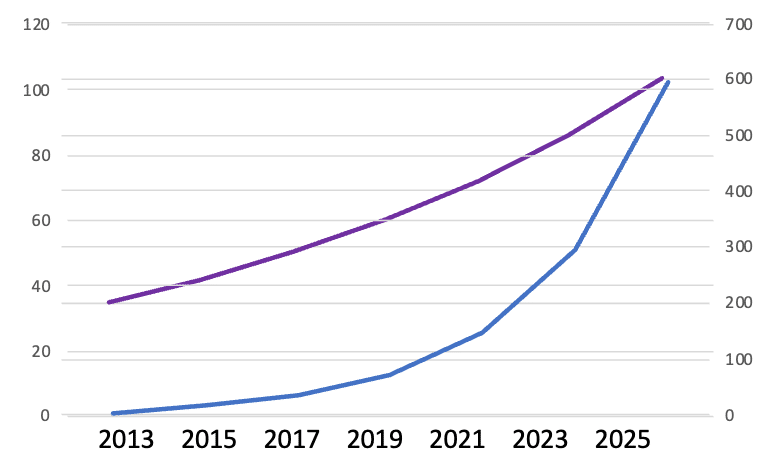 Why is this a problem?
Comparing theoretical figures to determine real-life future expenses is inaccurate.

Comparing systems while the transceivers placed into them more than double their power is even less accurate.

Comparing the consumed power of a system relative to its bandwidth instead of the value it generates is plain wrong.
It is a valid claim to make that this is the method that was used in the past and what is recommended still by incumbent vendors.
Fact check: It was common practice as late as the 19th century to measure's one's intelligence via the location and size of bumps on one's skull, and many doctors of that era indicated this method (Phrenology) as valid. This checks off the historical debt I promised, while the (valid) claim coming from incumbents checks off the political one.
The Distributed Disaggregated Chassis (DDC)
While picking a solution that promises the lowest power consumption today makes some sense, choosing one that promises the option to update hardware with newer models as they develop makes a lot more sense.
Disaggregated solutions, such as distributed disaggregated chassis (DDC), enable customers to select the best hardware today and build it into a model that can replace existing components or introduce new components into production systems. This can be done without the physical limitations imposed by rigid chassis, or the political obstacles imposed by the incumbent providing that chassis as a monolithic platform tightly coupled to that same vendor's software.
The highest utilization at the lowest power consumption
A measurement criterion of power per port in a router makes some sense. However, when the router is a standalone platform serving one use case, while other collocated routers are serving other use cases, you need to consider all the interfaces connecting between these collocated routers. You should remove these interfaces from your equation – although they (obviously) consume power, they are not providing any value.
A distributed platform such as DDC can run multiple independent instances of routers and have them all connect to one another via the existing fabric interfaces of the DDC. These fabric ports are highly efficient cell-based interfaces built for the highest utilization at the lowest power consumption due to the DDC's truncated packet-processing capabilities.
In some places, we are already measuring power with carbon footprint. Flexible boxes that can serve multiple use cases and reposition themselves within the network have much longer life expectancy than large chassis. So the embedded carbon within them is spread "thinner" and in fact "costs" less. (Cost here reflects a different green currency called sustainability.)
Eventually, a large chassis platform with extremely high power-pull which is condensed into a rigid enclosure, forces operators to feed all this power to a single rack. Moreover, operators must cool all the dissipated heat generated (using ambient cooling, which is a real challenge worth a dedicated post). The distributed nature of DDC enables the spreading of consumed power into several racks. Each rack stays within its existing power envelope, avoiding the need to upgrade entire cooling systems for the site due to the introduction of one big mammoth chassis.
Benefits of a distributed disaggregated chassis
In a nutshell, DDC brings the following benefits:
Evolution to new hardware in a live system

Collapsing of multiple routers into one cluster

Utilization of the most efficient fabric technology
Related resources:
DriveNets White Paper
NCNF: From "Network on a Cloud" to "Network Cloud"
Read more