DriveNets' Network Cloud adopted the architectural philosophy of hyperscalers and adapted it to networking. It is a cloud-native software, disaggregated from the shared infrastructure of white-boxes on which it runs. It can grow linearly to unprecedented scale – supporting the largest core and edge networks in the world. And, it can run any service on any port on that shared Network Cloud infrastructure. Where DriveNets truly disrupts the Service Provider space is with its separation of hardware and software, its use of networking white boxes to create a fully converged shared infrastructure, and its flat software pricing model. This strong combination allows operators to break vendor lock-in, scale up capacity, rollout services faster, and grow margins.
When we defined our company's core values, we faced a unique hurdle: how to convey our deep respect for our telecom networking roots, while still expressing the fact that our vision disrupts an industry that hasn't been disrupted in 30 years?
DriveNets' employees are networkers at heart. Our core values reflect our belief that networks have changed the world: they've made more knowledge accessible to everyone, brought people closer together, improved healthcare, education, entertainment, and much more. We believe that networks have made the world a better, more efficient, more knowledgeable place. And we wanted our brand to express what a good force networking is in the world.
At the same time, we wanted our brand to reflect the significant disruption our Network Cloud creates in the market – both technologically and economically.
We looked at traditional network brand visuals for inspiration, and found that they are largely based on dots, and lines that connect them. In fact, we couldn't find even one networking company that didn't have this visual. This worked well for legacy networking – but not for us. Because, despite our deep roots in networking, DriveNets is a cloud software company. And with the move to a cloud-native model, the role of the network has expanded. It is no longer a vehicle for carrying OTT (Over the Top) services or distributing services in a bolt-on NFV (Network Function Virtualization) model. Instead, it is a much more scalable model where new services are integrated into the network itself. In the DriveNets model, all services are cloud-native micro-services of the Network Cloud itself and can seamlessly be applied to any port in the entire network.
As a brand, we're changing the way networking works. We're disrupting models that have stood for literally decades. We're building networks based on cloud software and micro-services running on white boxes. We are allowing service providers to grow revenue and increase profitability by building networks in a whole new way. This is what we needed to convey.
So, Here's What We Did
Respecting our past yet committed to leading the transition of the telecom industry to a brighter future of scale and growth, we created a visual language that separates the two, yet also intimately connects them. The diagonal dividing line in our visuals and logo suggests the change we enable yet does not negate the value of either side. It shows the strengths of the past on which we're building the future. And it shows that the old will coexist with the new – both conceptually and technologically – for a long time, even as the balance between the two changes.

This duality is evident in our new logo, where the diagonal line divides the old-style, heavy font and the newer, lighter one. In our visuals, the line divides the traditional networking look (corporate blue) and the new dawn of networking (orange and yellow), where the network is rising to new levels of scale and services. We're expressing the transformation of the market, of network architectures, of service providers themselves, and of our own brand.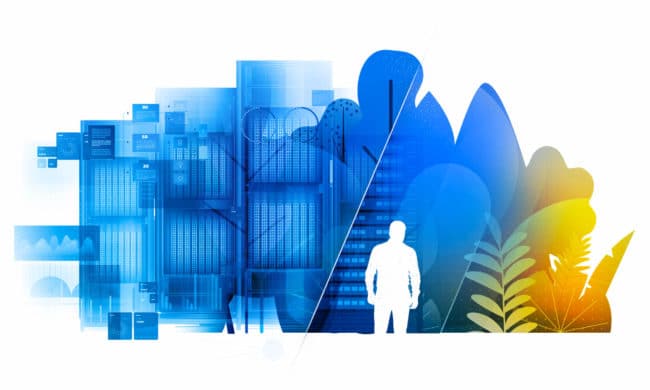 Our new brand also expresses a move to lighter, simpler networks operationally. Networks that grow (rise) faster and more efficiently, and that offer new horizons for the people who operate them.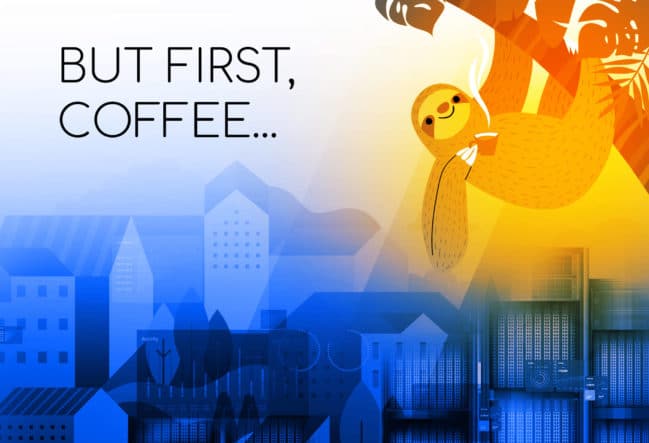 We're disrupting traditional networking culture, as well as technology, architectures and economic models. This new culture is lighter, more open, more creative and – let's face it – more fun.
The Bottom Line
Disrupting an entire industry is challenging. Expressing disruption that respects the past on which its built is even more so. We hope that we were able to convey all that with our new brand and that you find it as pleasing as we do.
Download White Paper
Introducing DriveNets Network Cloud
Read more