None of these options is easy or ideal. In fact, adding a router is expensive and adds routing and trunk complexity. Upgrading requires more power and cooling, not to mention fork-lifting. And this cycle, which repeats every few years, is painful, to say the least.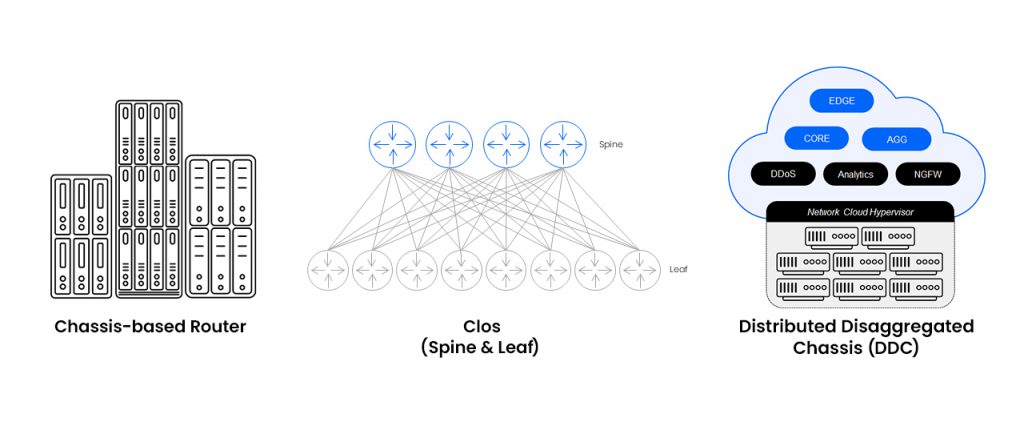 One Network Doesn't Fit All
As large cloud providers have adopted data center server applications and associated spine & leaf deployment (3-stage Clos), service providers have also considered Clos architecture to scale out large core or aggregation routers, even though their applications may not entirely align with the traffic pattern and applications in the cloud provider's data center. Notably, the ToR (top-of-rack) leaf/spine switches and associated chips are less suitable for SPs' carrier-class routing needs. Also, traffic flow patterns are less East-West dominated at the SP co-locations, and the consistent and deterministic QoS treatments and convergence needs are much different. Add to this the burden of managing and automating tens if not hundreds of leaf devices. Therefore, SPs should carefully consider all factors before choosing Clos for large-scale routing fabric and not adopt it just because it's popular among cloud providers.
Distributed Disaggregated Chassis Solution
Fortunately, the Open Compute Platform (OCP)'s Distributed Disaggregated Chassis (DDC) and the Telecom Infra Project (TIP) Disaggregated Distributed Backbone Router (DDBR) extension offer a hybrid solution that combines the best of both architectures. These solutions, provided by several players, including DriveNets, are growing in vendor support. While avoiding multi-chassis, the Distributed Disaggregated Chassis (DDC) addresses the scaling issue of the traditional chassis design and offers unlimited data plane and control plane scale-out. Its physical connectivity is similar to Clos architecture, yet it retains the management simplicity and carrier-class router performance of the traditional chassis-based router. And though the Distributed Disaggregated Chassis (DDC) router includes multiple spine & leaf components, it is enclosed logically via software to provide a single control and management plane. Unlike the Clos architecture, the DDC does not require routing protocols to be run among the hundreds of links between spine and leaf boxes, simplifying core/Agg/edge router instantiation in terms of operation, troubleshooting, and monitoring.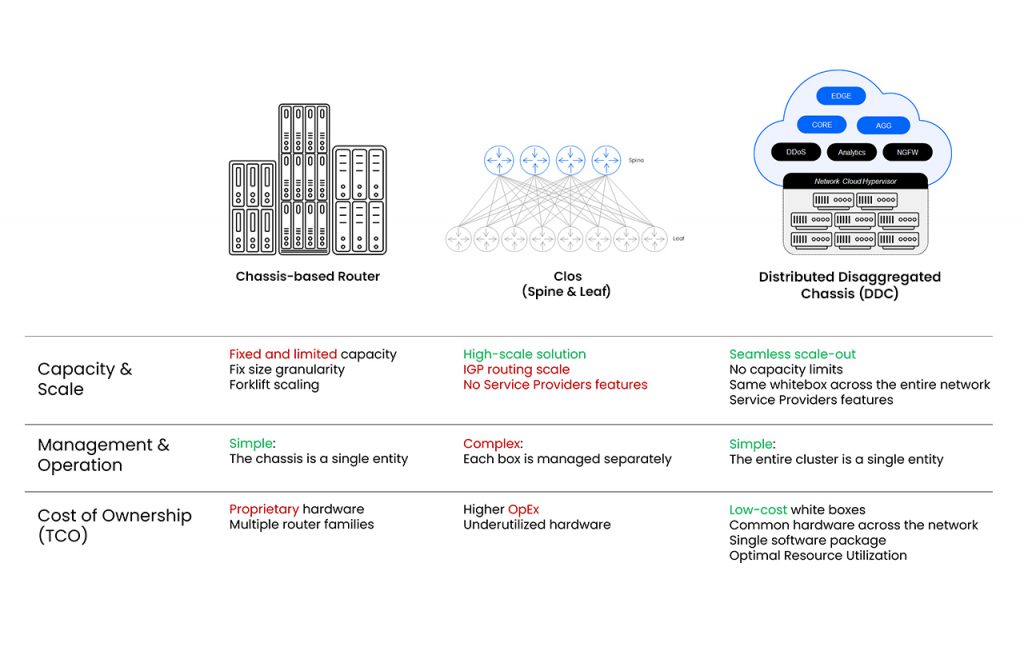 Distributed Disaggregated Chassis (DDC): the best of both chassis and Clos architectures
Choosing the 'right' next-generation architecture for multi-service routing applications has always required compromise. Service providers prioritize operational simplicity and therefore tend to choose a chassis-based architecture. Meanwhile, Data Centers (DC) built to scale typically prefer Clos (spine and leaf). Service providers must carefully evaluate whether a traditional Clos solution satisfies carrier-class performance, unique traffic flow patterns with a multi-service router, and the cost of its complex distributed control and data plane features. Most likely, they will end up choosing the Distributed Disaggregated Chassis (DDC) solution that combines the best of both chassis and Clos architectures.
Download
DriveNets Total Cost of Ownership White Paper
Read more