Network Cloud is the highest-scale networking infrastructure that runs over white boxes. Its scale is so high that it can supports the largest core and aggregation networks in the world. Network Cloud delivers the cost and flexibility benefits of an open, disaggregated architecture – without compromising on carrier-grade performance.
DriveNets has designed a highly extensible and modular architecture that uses only two hardware building blocks to build routing solutions for any network service – and at any scale.
The first building block is a packet forwarding white box that can serve as a 4Tb/s standalone router – but can also be clustered with the use of a second white box, a fabric element.
Network Cloud clusters can reach an unprecedented capacity of up to 768Tb/s in a single distributed virtual chassis.
While DriveNets is a software company, it nurtures a complete white box ecosystem for the benefits of SPs. It includes certified hardware vendors, providers of merchant silicon and transceivers and system integrators. Together they deliver compelling white box-based routing solutions that are simple to deploy and easy to manage.
Two building blocks
Network Cloud Packet Forwarder (NCP) executes traffic forwarding and holds all data-path features, including FIB tables, access management lists, DDOS attack mitigation, Quality of Service classification and Virtual LAN QinQ tagging.
The NCP white box includes a high-speed packet processor, such as Broadcom's Jericho II, and its ports handle traffic at speeds of up to 400Gb/s, with total device capacity of 4Tb/s.
A single NCP functions as a standalone router, while multiple NCPs can be clustered over fabric to deliver capacity of hundreds of terabits in a single routing entity.
With carrier-grade traffic management & deep buffers, NCP is designed for network functionalities like routing, VPNs, MPLS, and tunneling in the demanding environment of ISP and CSP core networks.
Network Cloud Fabric (NCF) allows multiple NCPs to scale their data-path well beyond the capacity of a single device.
Depending on the size of a cluster, multiple NCF white boxes can be used for data-path connectivity within a single virtual chassis.
NCF's 400Gb/s ports and cell-based architecture ensures that the cluster's data-path runs at maximum speed and is not blocked by elephant flows.
Routers and clusters
Network Cloud can be deployed in a variety of sizes, starting with a standalone 4Tb/s router with dozens of ports (a single NCP), all the way to a gigantic 768Tb/s cluster with thousands of ports.
Network Cloud clusters are created by connecting NCPs over fabric (using NCFs).
The following table shows some of the potential configurations: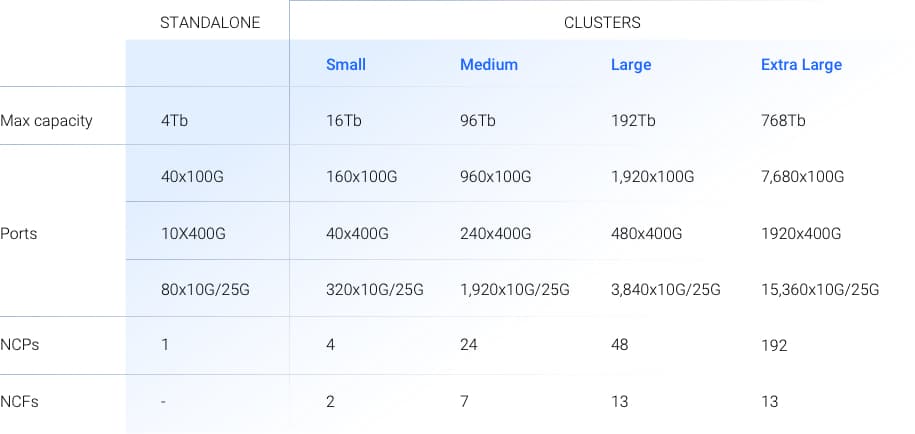 Standalone
Clusters
Small
Medium
Large
Extra Large
Max capacity
4Tb
16Tb
96Tb
192Tb
768Tb
Ports
40x100G
160x100G
960x100G
1,920x100G
7,680x100G
10x400G
40x400G
240x400G
480x400G
1,920x400G
80x10G/25G
320x10G/25G
1,920x10G/25G
3,840x10G/25G
15,360x10G/25G
NCPs
1
4
24
48
192
NCFs
–
2
7
13
13
Connecting it all
Disaggregation, modularity and clustering deliver compelling benefits in terms of costs, scalability and flexibility. At the same time, they pose unique deployment and integration challenges. Hardware needs to be assembled from multiple providers, at a precise sequence, installed with the right software pieces – and connected to form a streamlined, manageable whole.
Provides a strict certification process of all the participants in its white box ecosystem
Ensures a highly automated deployment and integration process.
DriveNets' state-of-the-art orchestrator (DNOR) automatically identifies Network Cloud building blocks, installs the relevant platform elements on them and connects their designated cluster.
The entire process can be managed by the end customer or by DriveNets' certified Value Added Resellers (VARs) or system integrators (SIs).
A white box ecosystem
Deploying a successful white box-based routing infrastructure in the challenging environment of SP core networks requires a collaboration between multiple providers. DriveNets functions as the linchpin of such an ecosystem, delivering an overall definition of the architecture as well as its various networking software pieces. Other participants in the ecosystem are:
Merchant silicon vendors, such as Broadcom and Intel, provide packet processors and switches. Through its close relationship with these vendors DriveNets is able to optimize its software to the very latest version of the chipsets, taking maximum advantage of their capabilities.
ODMs assemble and build Network Cloud white boxes. Manufacturers need to be certified by DriveNets in order to assure that their product performs flawlessly within Network Cloud.
Optical transceiver vendors provide the high-speed connectors that enable clusters to perform at near zero latency.
VARs & SIs take charge of the installation and integration process at customer sites. Value Added Resellers and System Integrators are rigorously certified and extensively trained by DriveNets.
Carrier-grade security and reliability
DriveNets' Network Cloud addresses the unique security challenges associated with the disaggregated model throughout the lifecycle of the solution in the telco network.
As opposed to traditional network solutions, disaggregated systems present unique security challenges. With whiteboxes delivered directly from the manufacturer to the Service Provider, software needs to be installed prior to connecting any new box to the network. After initial deployment, the open nature of a disaggregated solution increases the risk of unauthorized software being loaded and run on the disaggregated systems