Aliraza presented some of Comcast's insights from working with DDC/DDBR (Distributed Disaggregated Chassis/Backbone Router) architecture, sometimes referred to as "virtual chassis," and discussed how disaggregation helps simplify Comcast's operational complexities.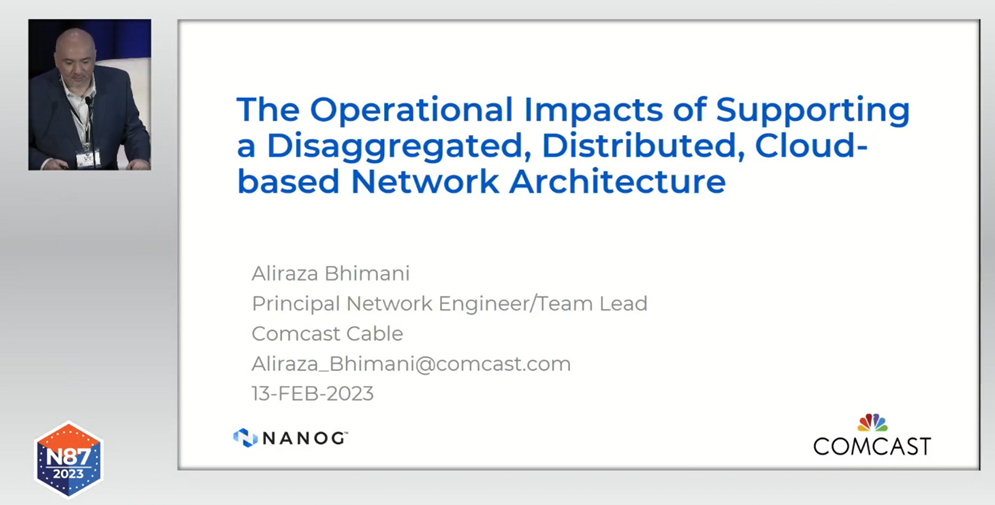 The changing large-scale IP network landscape
The session highlighted the fact that large-scale IP networks are complex and growing at an ever-increasing rate. This growth and complexity are driven by three major factors: new tech (e.g. gaming); same tech but consumed differently (e.g. working from home); and same tech but more of it (e.g. video streaming).
Making things even more complex for internet/communications service providers (ISPs/CSPs) are new technologies coming into commercialization (e.g. 5G and 6G mobile), DOCSIS 4.0 evolution, and commercial service port growth. This last point is loosely observed by interface speeds evolving from 100G to 400G, 800G, and 1200G (1.2Tbps) – and even higher.
One fact emphasized is that internet traffic has grown a whopping 1,355% in the last two decades. This is roughly when I joined this industry, and back then it already felt like the internet was everything. So how big could it get? Well, 1,355% bigger at least…
Meeting network challenges with a DDC/DDBR solution
All these challenges are driving Comcast to reach a clear conclusion. Since current traditional solutions limit the operator's potential and aspirations, there is a need to seek out alternative routing solutions. More specifically, the disaggregated router approach is improving Comcast's cost structure and giving the operator better control over its network and how fast it can evolve and innovate.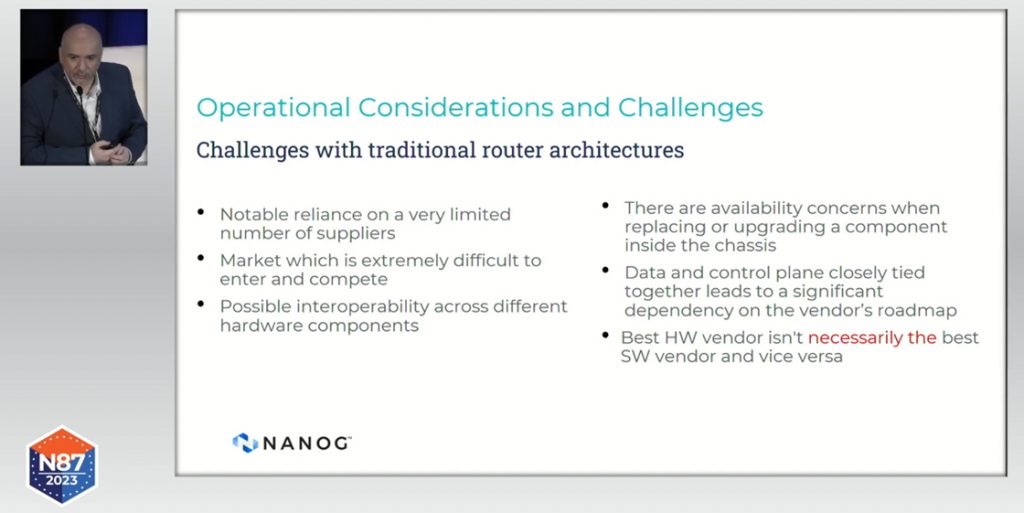 Aliraza related to the actual DDC/DDBR implementation tested by Comcast with some assistance from DriveNets' Idris Jafarov, Delivery Team Leader. This implementation removed the major concern of expected complexity for managing a multi-device cluster of white boxes vs. a single-chassis device, thanks to a streamlined user experience enabled by an orchestration platform.
Looking forward, Comcast was said to be focused on Open Offload API. This enables open ecosystem development and mounting of third-party functions on top of the DDC/DDBR cluster as implemented by DriveNets (along with other industry players such as Palo Alto Networks and VMware).
Delivering operational value
from DDC architecture
A key point raised was the improved sustainability offered by standard white boxes. These devices can be purposed to implement different network functions at different scale, and, as such, enjoy extended lifespans in any production network. While this was something that could not have been tested in the lab, it is already clear that this is an attribute that cannot be obtained with single-purpose, monolithic, chassis-based, router implementations.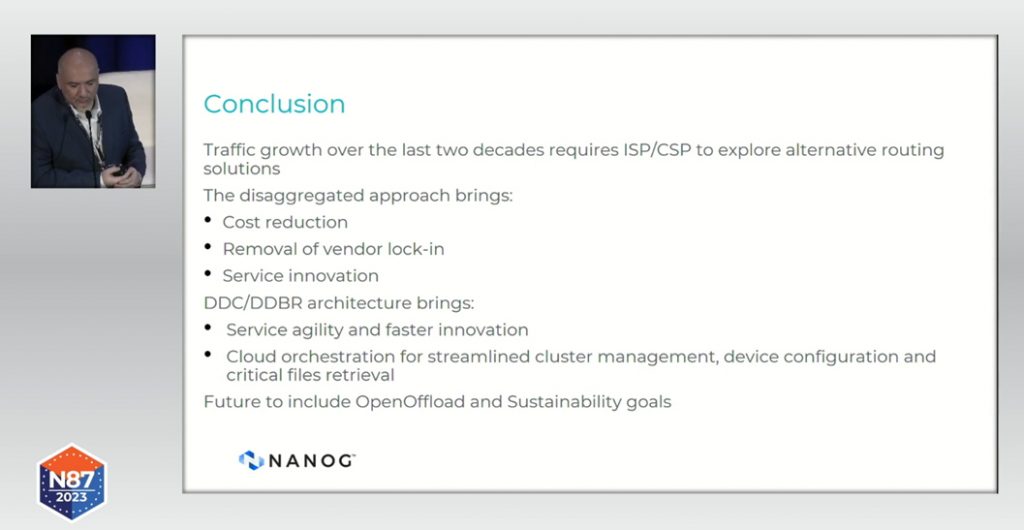 At the end of the session, Aliraza shared some impressive numbers relating to the operational impact of implementing DDC/DDBR. "With this disaggregated solution we were able to reduce power consumption by 48% when compared to traditional routers. We also increased port capacity by 2.5 times when compared to traditional routers," he said.
DriveNets is a leader in providing DDC solutions
With DriveNets' DDC architecture, there is no 'domino effect' of failures, and it can be done easily and on the fly without a maintenance window. Since all components are separated, if there are any issues, they are isolated to their specific units, and as such, the blast radius is controlled. The Distributed Disaggregated Chassis (DDC) white box architecture adopted by DriveNets employs a separate line card system for packet forwarding (Network Cloud Packet Forwarder – NCP) and for fabric system (Network Cloud Fabric – NCF). As such, failure of any of these components does not affect the rest of the cluster in any way, and can be replaced immediately without scheduling and waiting for a maintenance window.
DriveNets is the leading provider of DDC solutions, with DriveNets Network Cloud serving as the NOS and multiple ODMs vendors, as the hardware partners. DriveNets Network Cloud was among the first vendors to be awarded a Telecom Infra Project (TIP) Requirements Compliant Ribbon for its Distributed Disaggregated Backbone Router (DDBR) extension of OCP DDC.
Making the transition to DDC network architecture
Disaggregated, distributed, cloud-based network architectures offer a number of benefits for network providers, including reduced costs, eliminated [or: reduced] vendor lock-in, faster innovation, enhanced flexibility, increased scalability, and improved performance. However, network providers need to be aware of the operational impacts of supporting this type of modern network architecture, such as the need for reliable and field-proven orchestration, automation, and analytics tools.
The transition to a disaggregated, distributed, cloud-based network architecture is not without its challenges. However, the benefits offered by DDC architecture make it an attractive option for CSPs willing to invest in the future of networking.
Aliraza Bhimani's presentation at NANOG 87 serves as a timely reminder of the operational impacts and considerations organizations must take into account when adopting this revolutionary network architecture.
Related DDC network architecture resources
Download
Introducing DriveNets Network Cloud
Read more