Why a disruptive, open and disaggregated networking solution?
Well, like many tier-1 SPs, KDDI had realized that the networking industry has changed. Network designs that were created more than 20 years ago are no longer sufficient to meet the increasing demands for new services and traffic. Previously, KDDI invested heavily in scaling its networks using expensive, power-hungry and bulky platforms, all while experiencing revenue reduction from over-the-top (OTT) services and hyperscalers. Now, KDDI, along with other SPs, acknowledges the need for more flexible and cost-effective network architectures.
The new open and disaggregated solution aims to effectively address the primary challenges faced by service providers when deploying or expanding their legacy networks. These challenges include:
Scalability

: SPs require more elastic scalability than provided by traditional chassis-based solutions, which often necessitate a complete system upgrade.
Vendor lock

: Legacy hardware inherently promotes vendor lock, resulting in high costs, limited innovation, and restricted compatibility with third-party components.

Cost reduction

: Traditional solutions require upfront capital investments, occupy a larger footprint in data centers, and consume excessive power. A new cost-effective network architecture is needed.

Rapid innovation

: Proprietary software and hardware result in high dependency during development cycles, leading to sluggish innovation and prolonged time to market.
Moving from testing to a production networking environment
The second phase of the journey ended in March 2022, when KDDI announced it had successfully completed commercial testing of DriveNets-powered DDBRs as internet gateway peering routers.
The solution proved to deliver the key elements missing from KDDI's legacy solutions:
No vendor lock

: DriveNets Network Cloud allows for disaggregation, which drives the separation of software and hardware. This gives SPs the freedom to choose different vendors for software, bare metal, and even ASICs. In addition to software from DriveNets, KDDI uses white boxes from

Delta Electronics

powered by Broadcom's merchant silicon (Jericho2).

Incremental scalability

: The solution allows scaling one white box at a time to reduce costs and optimize power efficiency up to a possible capacity of 691.2 Tbps.
Reduced costs

: The solution streamlines network operations by implementing a unified network across all domains, resulting in cost reductions through simplified forecasting, optimized inventory management, and

efficient

resource sharing. This approach also reduces power consumption and minimizes the data center footprint.

Fast time to market

: Open SW and HW improve flexibility and innovation, leading to faster SW development and reduced time to market.
Last week (as stated above), after a long, extensive and successful testing phase, KDDI started the deployment of its DriveNets-powered DDBR in its commercial network as internet gateway peering routers.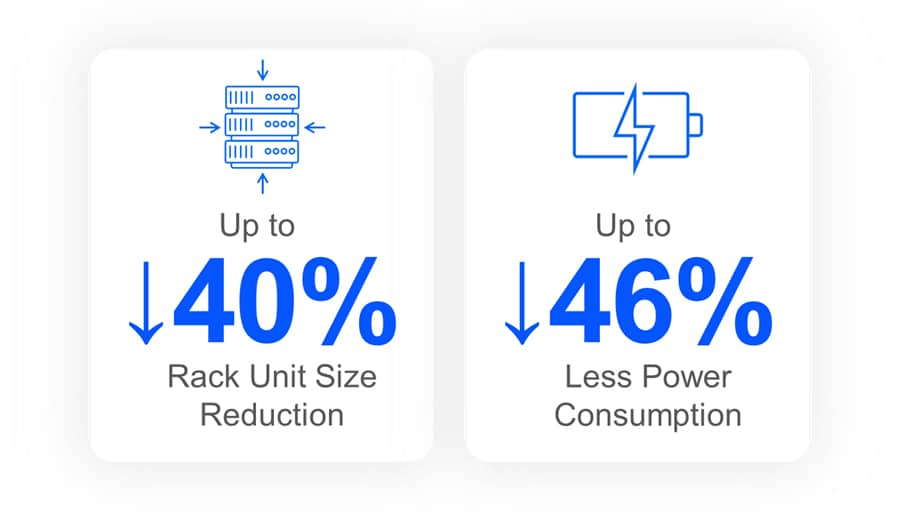 KDDI emphasizes two key benefits – the freedom to create an optimal hardware configuration, and the ability to share hardware resources across multiple network domains. These advantages help to significantly reduce power consumption, capital equipment costs, and rack space. In fact, according to KDDI the new solution remarkably can reduce power consumption by approximately 46% and rack space by approximately 40% compared to traditional routers in their production networks.
Continued growth of network disaggregation
The telecommunications industry is witnessing a growing trend of network disaggregation, as service providers actively advocate for its adoption. KDDI joins the ranks of other industry leaders, such as AT&T, Telefonica, Orange, Vodafone and Turkcell in embracing open and disaggregated network solutions. These pioneers are reaping the benefits of disaggregation, including reduced costs, accelerated innovation, and enhanced scalability.
With the changing network landscape and the proven success of commercial disaggregated solutions, the path is paved for further network implementations. As DriveNets continues to drive innovation and deliver value, it is poised to play an increasingly influential role in shaping the future of networking.
Download
DriveNets Total Cost of Ownership White Paper
Read more