Over the past few years, we have gained extensive knowledge, experience, and skills in this dynamic business environment. As a result of this experience, we have observed how service providers are changing many paradigms they once held and embracing new resolutions.
In this two-part blog series, we will review five lessons that service providers have learned from their Cloud Network deployments:
#1 Service providers seek "software magic"
We all think we know service providers, we all think that because of their outage anxiety they prioritize smooth operations over exploring potential benefits from new technologies and innovations. However, it seems that due to the highly competitive market and the constant pressure to deliver better performance and higher capacity, service providers, particularly those operating a tier-1 network, are actively seeking for some software magic. A magic that will allow them to be more flexible, cost-effective, and efficient network architecture. They recognize that the traditional, hardware-centric approach is inadequate for keeping up with the increasing demands for data. As a result, when presented with the right solution, service providers are eager to adopt innovative and agile software-based solutions that enable them to quickly adapt to changes in the market and customer needs.
Two examples of software magic that service providers gladly embraced:
Simplicity
In network architecture, the principle of "less is more" applies, and by reducing the network building blocks to only the necessary elements improve planning, procurement, stocking, and maintenance. With DriveNets' network operating system (DNOS), service providers are able to create any network entity based on only two types of white boxes, regardless of its size and capacity. The ability to create a network entity from multiple white boxes and have it operated and behave as a single entity is a game-changer that materialize the dream of simple and flexible network. Such a network can flexibly resize or reshuffle its hardware resources in response to real-time network demands and maximize the hardware utilization.
Furthermore, the shift from forklifting a chassis to a simplified pizza box operation does also translate into cost as disaggregated and distributed cluster (DDC) solution can offer the same performance as traditional chassis-based solution using less hardware and the hardware that is used is a low cost whitebox.
"The flexibility to deploy infrastructure using a building block approach. That means it can roll out one "pizza box" in a central office to support something like a small business network or as many as 48 in a cluster for a core switching node."

Mike Satterlee, VP, Network Core Infrastructure Services, AT&T
AT&T VP: Fiber backbone carries 594 PB of traffic per day
Future-proofing
Designing a network architecture with a longer hardware lifespan is a strategic move for service providers to maintain a competitive edge in the market and meet future requirements. Moreover, the hardware lifespan has a direct impact on the cost of operations and profitability. By adopting a future-proof network architecture, service providers can ensure that their network can accommodate new technologies and services, adapt to changing market demands, and ultimately reduce hardware costs in the long run.
AT&T's network architecture is a prime example of futureproofing in action. Their current setup utilizes 400G interfaces for their core backbone and 100G uplinks to connect edge nodes to the core. However, with edge nodes already beginning to shift to 400G, AT&T is exploring the possibility of upgrading the core to 800G without any fear. They know that the software capabilities of DriveNets' hybrid cluster allow for the implementation of new technology without the need to discard the old. With DriveNets' hybrid cluster, both old and new hardware can coexist seamlessly, enabling service providers to offer cutting-edge technology to their customers while reducing their operational costs.
#2 Agility in a dynamic live network is possible when done right
As discussed earlier, service providers are looking for innovative solutions to improve scalability and reduce revenue loss. However, introducing disruptive technologies can have unintended consequences on network performance. Given the potential consequences of network downtime, such as lost revenue, reputational damage, legal liabilities, and brand dilution, service providers need to find ways to be agile in responding to failures. The solution lies with networking vendors who prioritize rapid delivery and short bug lifecycles. Embracing these values can help service providers quickly address problems before they cause significant disruptions or downtime.
"We enjoy this relationship. We enjoy the disruption. We enjoy the ability to work together and push some boundaries in our ability to deliver not just software, but actually a full service. We can deploy the reliability and the rigor that a telco at our scale needs."

Igal Elbaz, Network CTO, AT&T
Talking about Disaggregated Cloud-native Networking at MWC 2023
Service Providers understand the limitations of the incumbents in the networking industry, they operate like sluggish oil tankers and cannot offer the responsiveness that they need. That is why DriveNets agility was highly recognized by our service providers. Despite our significant growth, we remain agile and highly responsive, as we are not bound by legacy solutions or complex portfolios. This agility allows service providers to accelerating innovation and still maintain a more reliable and competitive network.
However, an important lesson is that this agility can also be a double-edged sword. Hasty software releases and extensive revisions can result in technical debt when development shortcuts are taken, leading to network performance issues. Our service providers were able to utilize the power of our disruptive capabilities because we understand that great power entails great responsibility. Therefore, it is essential to ensure that quality is never compromised for speed. to ensure agility in a dynamic live carrier-grade network, our service providers have found it essential to have a vendor who delivers solutions quickly while also ensuring that they are not compromised by subpar software releases. This combination is critical for maintaining a flexible and responsive network that can adapt to changing environments and circumstances
#
3
SP
s
are r
evolutionizing
n
etworks with
s
mall but
s
trategic
s
teps
Service providers understand that seamless integration is crucial for successful replacement of working technologies, even before beginning new deployments. While SPs acknowledge the need for new network architectures to support increasing data traffic, they may still be cautious about adopting new technologies due to past failures in infrastructure transformation, such as with VNF and CNF. Service providers have realized that operational familiarity can play a significant role in ensuring frictionless integration and avoiding negative side effects. Therefore, leveraging familiarity can help accelerate confidence within operations and catalyze the deployment process.
DriveNets Network Cloud delivers the elasticity of the cloud while still feeling familiar to operations. This familiarity makes it easier for service providers to adopt and utilize new and revolutionary infrastructure. By transforming off-the-shelf white boxes into an orchestrated shared resource over which network functions are installed in a container, SPs can operate any function through a single command-line interface (CLI), just like a classic router. This familiar environment "wrapping" the new disruptive solutions has helped service providers build confidence from within. Leveraging the familiar CLI experience, SPs have been able to grow their networks and enjoy the benefits of unlimited scalability, agility and simpler operations.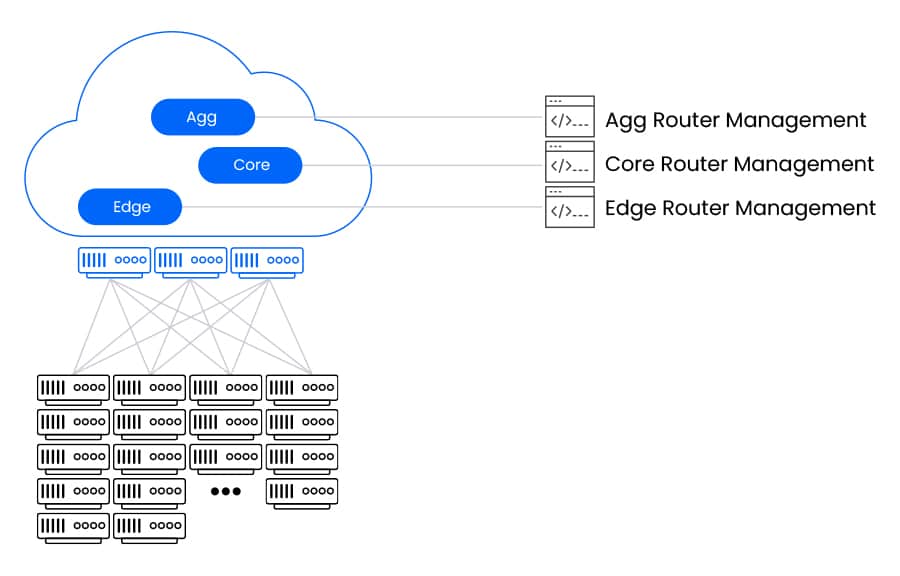 DriveNets Network Cloud allows operating multiple network functions through a single command-line interface (CLI)
#

4

M

ulti-

v

endor

solution

s

may

need

one

leader
The primary advantage of disaggregation is the ability to mix and match components from various vendors. This creates faster software innovation cycles, rapid offering of new services, greater choice, and reduced dependence on a single vendor.
"We are pushing for disaggregation in all the network layers. Why? When decoupling the software and the hardware you can have different innovation cycles and you can bring new things to the network in a faster way.

Cayetano Carbajo, VP Core, Transport & Service Platforms, Telefónica
Talking about disaggregated cloud-native networking at MWC 2023
The way service providers adopt disaggregated solutions differentiate them from one another. While some SPs quickly embrace a multi-vendor approach, others may view disaggregation as a mixed blessing as they prefer a single point of accountability. From their perspective, the perceived disadvantage of a multi-vendor solution is that it can lead to a "blame game" between vendors during root-cause analysis, making issue resolution difficult.
For this reason, service providers are pushing networking vendors to adopt a more flexible approach for addressing these concerns. vendors delivering a multi-vendor solution should embrace any responsibility model required by the SP, including taking end-to-end responsibility for the solution. This means that any issue, whether software- or hardware-related, is subject to the software vendor's SLA. Alternatively, if the SP so prefers, the vendor should shift to a shared responsibility model where the SP leads any hardware communication. In this way, any service provider can enjoy the much-needed benefits of a multi-vendor model, while also eliminating any concerns they may have regarding responsibility prior to deployment.
Although both responsibility models are valid, the majority of service providers seek complete control over the solution to exercise greater authority over the total cost of ownership (TCO).
#

5

The

w

inning

s

trategy

is

network

d

isaggregation
Service providers are struggling to keep up with the demand for traffic and new services from over-the-top (OTT) services and hyperscale companies. As such, SPs need a more flexible and cost-effective networking architecture.
Disaggregation is increasingly becoming the go-to approach for SPs facing network challenges. AT&T's largest DDC network deployment serves as a prime example, with 52% of its core network traffic carried by DriveNets DNOS software running on white boxes. This approach has enabled significant improvements in data traffic load, supporting up to 594 petabytes of data per day, surpassing all previously anticipated traffic loads. It also has significantly reduced costs by around 10 times compared to legacy architectures.
"White boxes offer AT&T a capital savings of about 10X compared to traditional chassis and line card architecture."

John Gibbons, VP Network Infrastructure Services, AT&T
AT&T VP: Fiber backbone carries 594 PB of traffic per day
At MWC 2023, Orange reported a 20% reduction in TCO by using disaggregation to build an elastic and flexible network, while Telefonica is actively promoting infrastructure disaggregation in all network domains. These statements align with other telco giants like Turkcell, Vodafone, and KDDI, who also are publicly advocating and deploying open disaggregated solutions throughout their network domains.
Commercially available disaggregated solutions are demonstrating that the core issues of service providers, such as cost savings, faster innovation and scalability, can be addressed by open disaggregated network solutions. As a result, disaggregated networking is a well-established and compelling solution for any service provider.
Looking forward to future
deployments
Service providers who have deployed DriveNets Network Cloud have realized that in order to cope with the explosive growth in global traffic and the decline in revenues, they must push networking vendors to hold the two ends of the software pole. On one hand, they must be able to utilize software innovation and agility to quickly adapt to current and future market requirements and on the other hand, they must maintain high standards of software quality to ensure network reliability. This agility and quality balance is a fundamental part of Drivenets' DNA, as our goal is to provide a carrier-grade networking solution that combines innovation and reliability.
In this blog post, we have examined five valuable lessons learned by service providers:
Service providers are seeking "software magic"

Agility in a dynamic live network is possible when done right

SPs are revolutionizing networks with small but strategic steps

Multi-vendor solutions may need one leader

The winning strategy is disaggregation
It is clear that service providers, particular those operating tier-1 networks, are no longer afraid to pursue disruptive and agile solutions. Recognizing that traditional networking solutions are unable to deliver the elastic networks they require; SPs have identified methods to implement and operate disruptive technologies successfully. Most importantly, these SPs have found, and are reaping the benefits from, the emerging go-to approach: disaggregation!
Download White Paper
NCNF: From "Network on a Cloud" to "Network Cloud"
Read more