The reasons are obvious; Networks grow at an annual rate of 20-30 percent, and even more this year due to the COVID-19 pandemic and the changes in usage patterns. Service providers need to make large investments to scale their networks in support of the growing demand for capacity, while their revenue doesn't grow much. Hence, most service providers are experiencing declining profitability. NFV or Network Function Virtualization is one of the technologies created to solve this challenge and has been around for some time. It is based on a simple concept – using standard x86 servers to run multiple network services over a shared physical infrastructure, to improve network efficiency and reduce cost. This makes networks look more like cloud computing than traditional networks.
The promise of Network Virtualization
Unfortunately,
NFV was never fully implemented
to the same extent as cloud computing. Most NFV deployments have just ported network functions to VMs, creating architectures that are limited in scale and are more expansive than the alternative legacy solutions. Traditional networking equipment vendors have made many other improvements over the years to boost network capacity and scale, but they never changed the basic underlining architecture. They continue to roll out larger chassis and new line cards that support the latest network interfaces, currently 100Gb/s and 400 Gb/s. However, this approach has two main limitations. First, the backplane of the old chassis can only support a few of the new modules – not a full rack. And second, once the chassis, small or large, fills up it requires a costly rip and replace to scale. Other limitations involve power consumption, operational complexities and deployment costs.
What is network disaggregation?
Network disaggregation has been defined as "
The separation of networking equipment into functional components and allowing each component to be individually deployed
." The
disaggregated network
approach first gained major attention
in 2012 when standards organization ETSI
formed a working group to define how telecom operators could move to a cloud-native model for deploying networking and services. Described as software-defined networking (SDN) and Network Functions Virtualization (NFV), the early movement took a while to gain mindshare of the major operators with large installed bases of traditional networking gear. Running against the trend of functional convergence, prevalent over the past two decades, where vendors tightly coupled proprietary hardware and software together, network disaggregation opens up the network to scale, streamline operations, and significantly reduce overall costs. Most in the industry associate disaggregation with the separation of hardware and software and white box-based networks.
Network disaggregation
means that service providers can choose their vendors for building a best-of-breed solution that includes silicon, white boxes, and software.
Building networks like clouds
DriveNets was established to address this problem and align network scale with service provider profitability, in the same way that hyperscalers solved compute and storage scaling in the cloud. Our solution,
Network Cloud
, changes the operational and economic model of the network, allowing it to scale capacity and services much faster while increasing service provider profitability. We do it with a cloud-native networking software, standard
networking white boxes
and new operational and commercial models. DriveNets Network Cloud is a disaggregated high-scale core/edge networking solution based on cloud-native software running over standard networking white boxes. It simplifies the network's operational model, overcoming the limitations of the traditional hardware-centric chassis by allowing service providers to choose white box vendors independently of the networking software running on them, breaking vendor lock-in. DriveNets Network Cloud is based on a distributed
disaggregated router architecture
that can scale linearly from a single white box router of 4 Tb/s to a cluster of hundreds of white boxes (up to 768 Tb/s) acting as a single router entity. This scalability of a single router entity over any number of white boxes allows it to support any location in the network – Core, Edge, and Access with a single software based on only two white box building blocks.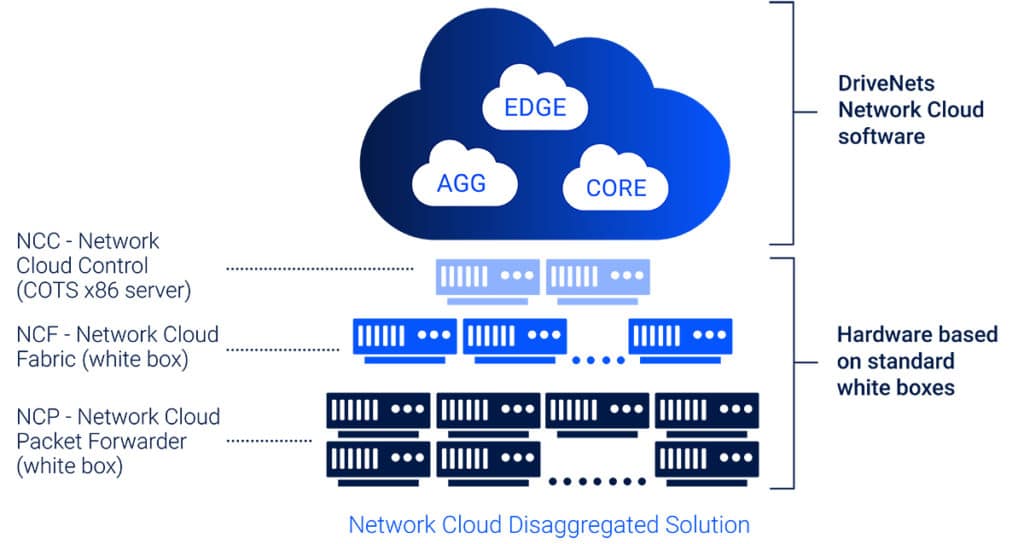 A cloud-native network – distributed disaggregated
The reason we call it a disaggregated router is because it completely disaggregates the software from the hardware, not just their pricing, allowing the software to run on any networking white box from any white box manufacturer. It also disaggregates the control plane from the data plane. The data plane runs on the networking white boxes while the control plane runs on standard x86 servers. This way both can grow independently of each other to a very large scale by adding more white boxes or servers, respectively. In addition, the cloud-native software runs networking services in independent containers, allowing services like core and edge routing, security and others to scale independently from one another. This way, large-scale software-based networks like core, edge, aggregation and peering, that are co-located, can share a single physical cluster, gaining incredible operational and cost efficiencies. This building-networks-like-cloud approach delivers the ultimate benefits of NFV at high scale and low cost.
DriveNets Network Cloud
is built in accordance with the Distributed Disaggregated Chassis (DDC) model that was proposed to the
Open Compute Project (OCP)
by AT&T. This disaggregated router approach, using one software over two types of white boxes, lowers both power consumption and the operational cost of scaling the network. It makes the traditional router chassis look like a thing of the past.
It takes a village to build a network
To deliver on the full promise of the Distributed Disaggregated model, DriveNets created an ecosystem which includes whitebox manufacturers such as
UfiSpace
,
Edgecore
and
Delta
and other vendors such as
Broadcom
and
Credo
to drive the standardization of the networking white boxes and the interoperability of the network cloud solution. In addition to the Open Compute Project (OCP) we also worked with the
Telecom Infra Project (TIP)
both backed by Tier-1 operators such as AT&T, KDDI, Telefonica, Deutsche Telekom AG, and Vodafone, and hyperscale clouds such as Microsoft and Facebook, to drive the
standardization and adoption of network disaggregation
. DriveNets Network Cloud is already in various stages with tier-1 service providers worldwide.
ABI Research White Paper:
Cloud-Native Networking
in a 5G Era
DOWNLOAD