Education CenterJune 1, 2023
What is the Distributed Disaggregated Chassis (DDC)?
Distributed Disaggregated Chassis (DDC) is an innovative networking architecture for building large-scale routing systems that delivers similar functionality as traditional monolithic routers but with better scalability and flexibility. DDC introduces two key innovations: the disaggregation of software and hardware components and the ability of a network operating system (NOS) to unify dozens of distributed white boxes in order to operate as a single network entity.
Why do service providers need a Distributed Disaggregated Chassis?
Service providers recognize the changing landscape of the networking industry. Traditional hardware-centric solutions are unable to meet the rapidly increasing volume of IP endpoint traffic from the access network. In addition, over-the-top (OTT) services and hyperscaler dominance have impacted revenue. In response, service providers are actively searching for a new flexible, scalable and cost-effective networking solution.
What are the key features of the Distributed Disaggregated Chassis?
Disaggregation
DDC breaks up the traditional monolithic chassis into separate building blocks. First, it disaggregates the hardware and software components that carry out the main functions of traditional and monolithic networking hardware. Disaggregation enables service providers to manage the hardware and software independently, and thereby mix and match hardware components and software from multiple vendors to increase cost savings. In addition, the disaggregated approach enables service providers to enhance resilience by supporting component upgrades or replacements without impacting the entire network.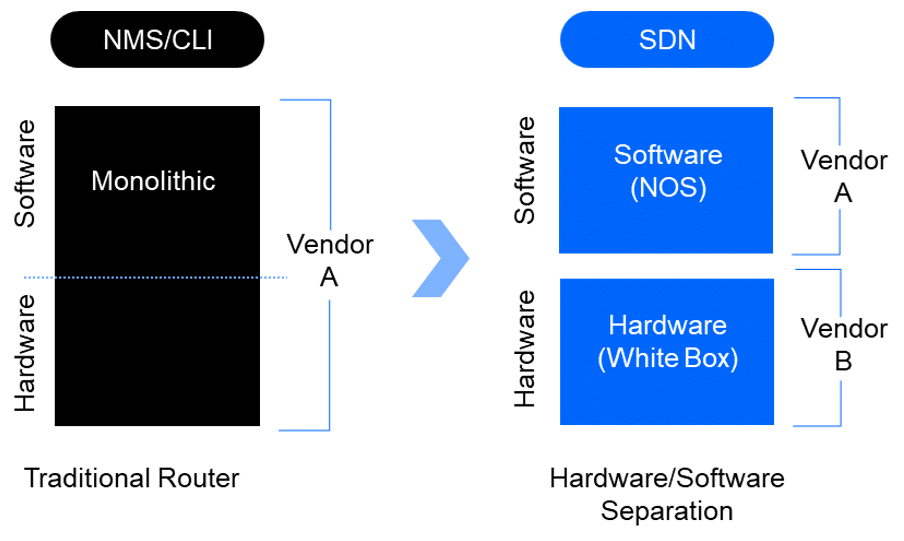 Unified System Design
With DDC, traditional chassis hardware is broken down into separate, standardized building blocks. Each component, such as line cards, fabric cards or controllers, is transformed into white boxes not bound by any chassis limitation. This network design enables service providers to build routers of any size across all network domains by using the same cost-effective white boxes. Additionally, this unified approach significantly reduces planning, procurement and operational efforts.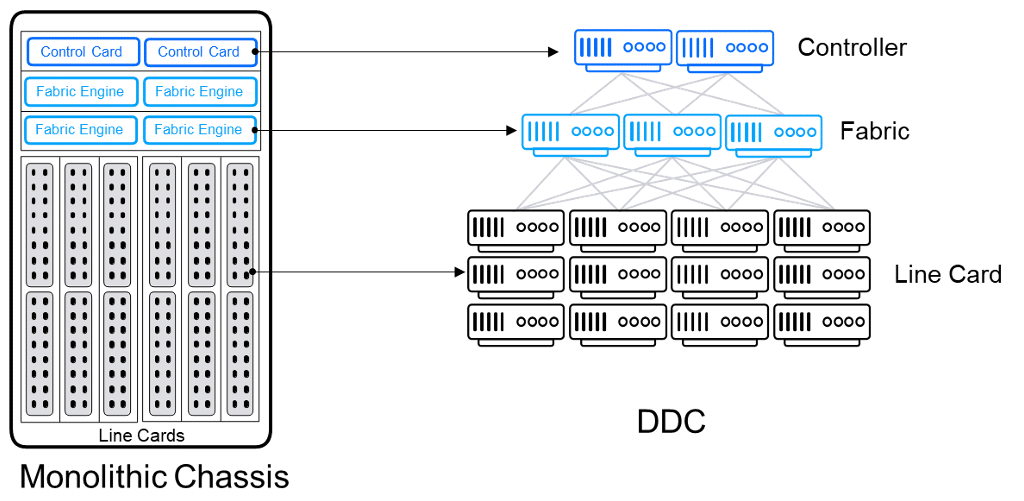 Network Operating System (NOS) and a Single Network Entity
In a DDC cluster, multiple distributed white boxes are used to build a large-scale network. This architecture combines the best of both centralized and distributed characteristics. On the one hand, individual components enhance resilience and minimize the impact of failures (aka blast radius). On the other, the cluster's NOS orchestrates the entire cluster, regardless of size, as a single network entity that is easy to manage and operate.
What are the benefits of the Distributed Disaggregated Chassis?
The benefits that the Distributed Disaggregated Chassis offers is not only a better, more flexible, and cost-effective network architecture, but also greatly enhances the operational experience for service providers through:
Cost-reductions for service providers
DDC offers two key elements that lead to cost reductions:
Vendor Lock-In Mitigation:

DDC promotes openness

and flexibility

by separating hardware and software.

This expands the range of available vendors for service providers, enabling them to mix and match

any

suitable hardware combinations

to meet

their requirements.

Hardware Efficiency:

DDC transforms distributed hardware into a shared resource pool, enabling service providers to

utilize

it efficiently. This

eliminates

the limitations associated with chassis-based systems, such as empty slots and underutilized hardware, and

enables

service providers to maximize hardware

utilization

.
Network scalability
DDC enables service providers to scale their network easily by simply adding low-cost white boxes for incremental capacity upgrades, as is the case with cloud environments. In contrast, legacy solutions often require expensive and time-consuming full system replacements. This agility is crucial in today's dynamic environments where rapid growth and evolving requirements are commonplace.
Simplified operations
DDC not only offers a better, more flexible, and cost-effective network architecture, but also greatly enhances the operational experience for service providers through:
Improved resilience:

E

ven

when there are

component

failures,

DDC clusters seamlessly

operate

with on-the-spot replacements

to

minimiz

e

overall system impact

.
Seamless scaling:

Scale or maintenance is easily

accomplished

by replacing individual white

boxes,

thereby

eliminating

the need for cumbersome chassis replacements and disruptive maintenance windows

.

Predictable operations:

Unified network design

enables

service providers to deploy any network function using

the same standard

white

boxes across all network domains.

Automation:

While

clusters

contain

numerous

distributed

white boxes

, the

ir

control plane is centralized

,

enabl

ing

service providers to adopt software-defined networking (SDN) principles for centralized management and automation.
Distributed Disaggregated Chassis gains momentum with service providers
Leading service providers such AT&T, KDDI and Turkcell have already deployed a significant DDC solution in their live networks via DriveNets DDC. And their efforts align with other giant SPs like Vodafone, Telefonica and Orange, which are also increasingly adopting open and virtualized networks. Distributed Disaggregated Chassis continues to gain momentum in the telecommunications industry, with service providers actively pushing for its adoption. The advantages of disaggregation are widely recognized, since organizations that have already implemented commercially disaggregated solutions have observed cost reductions, accelerated innovation, and improved scalability.
The Future of Disaggregated Solutions
DriveNets Distributed Disaggregated Chassis meets industry standards
DriveNets was one of the first vendors to be awarded a Telecom Infra Project (TIP) Requirements Compliant Ribbon for a Distributed Disaggregated Backbone Router solution, following the initial phase of TIP's test & validation process which evaluated industry readiness and solutions availability for disaggregated core networking. In 2022, DrivNets submitted version 2 of the Distributed Disaggregated Chassis (DDC) specification and was approved by the Open Compute Project (OCP) incubation committee. The release of the v2 of the Distributed Disaggregated Chassis (DDC) spec included inputs from AT&T, as well as, contributions made by ODM companies that manufacture the hardware, and DriveNets, implementing the software running on the DDC, also had inputs.
Additional Resources for Distributed Disaggregated Chassis